Times Three!
We went back and forth this year on how many trees to put up.  One is clearly more than enough, but two years ago we were given a second full-size Christmas tree, and we really couldn't decide which one we'd rather have up.  For the past two years we've been putting up both large trees (and then the smaller four foot tree on a counter or shelf), but we didn't really have enough decorations for two large full-size trees.  Instead, we put all our ornaments on the one we've always used, and then we used the second one and made it a homemade tree.  Every ornament on it was handmade by the kids and myself.   Two years ago was probably my favorite version of it, and then last year we started to do the same thing.  Our decorating got derailed by unexpected happenings, and last year the homemade tree ended up a little sparse.
But this year, as I surveyed the ornament bins, I decided that we should just put both trees up and see what happened if we divided the ornaments up.  We set the larger of the two trees in the school room in place of our school table and loaded that one up with all the fun ornaments we've all collected over the years. Here he is in all his splendor.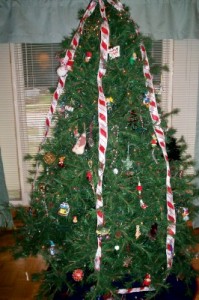 The second tree we put all the glass bulbs on, as well as the hand-crocheted snowflakes, and a scattering of silver icicle ornaments.  This one turned out very nice too!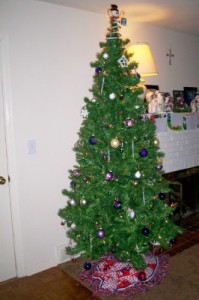 And then the third tree is the small one that we've set on top of the entertainment center this year.  This one is decorated in red, white and blue and is just so welcome to me every year.  I'd received it from my Grandma's things when she passed away several years ago, and I've yet to undecorate it.  I love putting it up and thinking about how she probably had a blast shopping for each and every ornament, and then putting this tree together.  I bet she's decorating some fabulous Christmas trees in Heaven.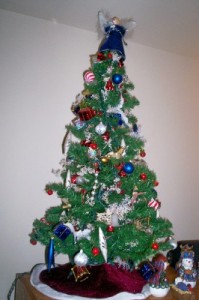 And there they all are, three Christmas trees that make us smile.  Every day the kids take turns with who gets to turn on the trees.  Whoever doesn't turn on the trees gets to move the snowflake on the countdown calendar one day closer to Christmas.
Honestly, I can come up with a place or two where we could put another tree if we came into one.  We just might need a few more ornaments.