If you're anything like me, you've seen countless times over in the blogosphere where people have been making their own laundry detergent. I've read hundreds of posts on it, and while it totally ingtrigued me, I just wasn't sold that it actually worked. I have always been particular about the detergent we used- we used Tide with Bleach for years, until they changed to the bleach alternative. Then we had to stop using Tide because the alternative gave my kids a rash. So we switched to Gain with Bleach, because we could find it, and oh, it made laundry smell great, and it worked well. By working well, I mean that it gets my husband's construction dirt out of his clothes. He works for a company that installs water and sewer… so you can imagine the crud he brings home on his pants. Our laundry detergent must get his clothes clean.
But a few weeks ago, a fellow blogger who's inspired me several times over shared that she actually switched to homemade detergent, and she found it worked great. Michele, from Ripening On The Vine tweaked a recipe she found to work perfectly for their family. And as the last few weeks went by, I just couldn't ignore what she had said, so on my last trip to the big grocery store, I picked up the necessary ingredients, because I just had to try this homemade detergent for myself.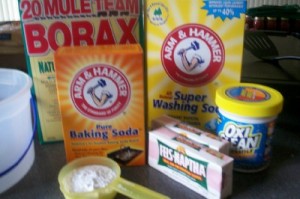 Here are the ingredients necessary. I had the hardest time finding the Fels-Naptha soap, but eventually found it by the bar soap for people. I found this kind of funny, because it says right on the package that it's a bar soap for laundry. But there it was, at just 99 cents a bar. I picked up two, optimistic that it would work well. The large box of Borax cost me $2.99, the large box of Washing Soda cost me $2.99, the small can of Oxy-Clean cost me $2.99, and the large box of baking soda cost me $1.47. Right there, using one bar of Fels-Naptha, we're up to not quite $12 for one batch of detergent. I don't know where you've been shopping lately, but I'm having a really difficult time finding quality, additive free detergent for less than $13. And these large boxes of stuff will easily make 10 or more batches, the only things I'll need to replace after a while will be the Fels Naptha and the Oxy-Clean.
The procedure was crazily easy. Literally, I measured the ingredients and dumped them in a bucket. Then I grabbed my box grater and grated one entire bar of Fels Naptha. I decided that my shreds weren't fine enough though and gave them a quick whir in the food processor to chop them finer. Then I mixed that into the powdered ingredients, and it was good to go. I wasted no time loading the washer up with a good assortment of laundry, and adding just 3 tablespoons of detergent to the washer.
I was so rewarded when the laundry came out of the dryer. First of all, there was no odor- the laundry just smelled clean and fresh and wonderful. And it was clean! I had a small grease spot on a pair of capris that's been there for forever. Guess what? It's gone! We still have to test on Andy's laundry, but I've done several loads, and I am beyond impressed with this homemade detergent. And- I use cold water to wash my laundry! It worked with cold water, which is always a concern here.
I can't really tell you how thrilled I am that this worked. I don't have to worry about harsh chemicals ruining our laundry, or giving the kids rashes, and I am going to save a ton of money. Michele figures that one batch of detergent will wash about 40 loads. Like I said, I'll keep track and try to report back my actual laundry detergent savings over a period of about six months or so. Thanks so much Michele for the encouragement! If you're reading this and you're local, Woodman's markets in Green Bay and Appleton have everything you need. Look for the Fels Naptha by the bath soap- it's on the bottom shelf.
Homemade Powdered Laundry Detergent
1 cup Borax
1 cup Arm and Hammer baking soda
1 cup Arm and Hammer Washing Soda
1/3 cup of Oxy Clean (I used a generic brand, not the high priced name brand stuff)
One bar of Fels Naptha soap (grated then processed in a food processor – you could use a box graer for this)
Mix everything very well then put it into a storage container. Use 2 to 3 Tbsp. per load.