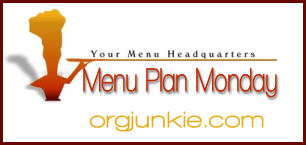 Well, welcome to another pantry week.  Andy went back to work this morning! So that in and of itself is very exciting!  Over the last few weeks I've been doing less pantry cooking and more stocking up…well, now I have a pretty decently stocked pantry, so I need to do some cooking out of it!  The only thing I haven't been stocking up on?  Meats. So this week, there's a lot of chicken, as my meat section in the freezer is full of random chicken parts.  I'm going to try and keep it interesting so we don't get sick of it!
Also this week, a very, very new to me ingredient.  Sardines. We'll see how this one goes, as I'm a little frightened of the little fishies in a bottle.
Be sure to check out all the other entrants this week at I'm An Organizing Junkie!
Sunday: Mac-n-cheese, salad, cantaloupe
Monday: Chicken-N-Dumplings, Salad
Tuesday: Tomato and White Bean Soup, Grilled Cheese
Wednesday: Orange and Ginger Chicken, Rice, Corn
Thursday: Venetian Spaghetti with Sardines, Garlic Bread, Roasted Vegetables
Friday: BBQ Chicken, Potato Salad, Hot Vegetable
Saturday: Birthday party? Or leftover night.