It's a whole lot of work to school two kids separately.
In fact, this last week was so much more work than I even vaguely anticipated.  Merging the two cores together has not gone quite as smoothly as I'd hoped.  And for most of the week, I felt like my head was going to explode, trying to keep track of what had and hadn't been done yet.
So going into week 3, there are some changes afoot.
The first change being that when Zander is done with his school day, he is dismissed to do whatever he would like until Science time.  I was having him sit in and listen to Abigail's history and read-alouds.  And you know what?  He finds it fascinating, but it's just too much for him.  Plus, he'll be getting it all again in several years anyway, I might as well let him go do something that will make him happy.
Abigail still wants to listen to Zander's read-alouds, mostly because they are books she's never read or heard before.  And that's fine, but while she's listening, she will also be working on something from her school day.  English and History projects fit the bill nicely here.
Both kids enjoyed school last week, but by the time the school days were over, I was exhausted!  I decided that things just couldn't continue in the same fashion for very long, or we'd all go crazy.  So I came up with a plan. And spent some time working on this coming weeks plan, and I think I came up with a solution that will make things less frazzled.
Here is my picture: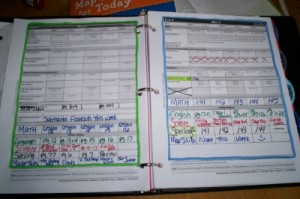 I took my IG pages to the photocopier and made copies.  Then I punched holes on opposite sides of the page so that I can have my binder open to both kids lessons at once.  Right there, this is going to make a huge difference!  Zander's is on the left, Abigail's is on the right.
The biggest change for next week is that I am giving Abigail the reigns to her school day.  She can look at her page as well as I can and see what she needs to get done that day.   I've highlighted for her in yellow the things that her and I need to do together- mainly this week that will be Spelling and her Read-Aloud.  Everything else, she can see what needs to be done, and she can do it in any order she feels like.  The number one rule is that when something is completed, she needs to give it a big old "X" so we can see that task is done for the day.
We will still start out our school day together with Bible and then Handwriting for both kids.  But after that, Zander and I will tackle his day and Abigail can tackle hers in whatever way she chooses.  In fact, I've even suggested to her that if she wakes up in the morning and feels like starting school on her own, she is more than welcome.
We'll see if this helps me to have a little more energy in the afternoon to, oh, I don't know, do something constructive like laundry or make dinner.  This last week I didn't want to do anything by the time we were done with school.
Bringing order to the chaos is our number one goal.  I'm hoping that giving Abigail a little more independence will work wonders for her, and I'm also hoping that I'll be able to keep Zander on track by giving him my undivided attention for the first part of the day.
Good thing we're flexible here!