by Lynne Reid Banks
The very first time I heard of this book, it was brand new, and I was in fifth grade.  My teacher chose to read it to our class, and along with the book, we did a very fabulous study of the Iroquois Indians.  The book was fabulous, and sometime that year, a sequel came out, and I gobbled that up too, although I ended up disappointed with that one.  But I do remember that teacher for being one of the ones who taught outside of the box, and as I read this book to my children, I totally saw why she taught the way she did.   We were the only fifth grade class to devote so much time to the Iroquois, but I'll tell you, we were insatiable.
As are my children.  We have just four chapters to go in our beloved book, and we are enjoying every moment of it.   Along the way though, both kids have asked lots of questions about the Indians, so I went ahead and sought out a few materials to show them some of what the book was talking about.  Our first purchases were an Indian Tribes of North America coloring book, which showed pictures of the longhouses and tee-pees that we were reading so much about.  We also picked up a paper doll book, as I thought that would be something Abigail could quietly do as we read.   I will admit that I was disappointed to not find any cowboys or Indians while out and about, although I wasn't surprised by the lack of them either.  Thank goodness for Amazon dot com, where I was able to find and order a Cowboy and Indian set that Zander has fallen in love with.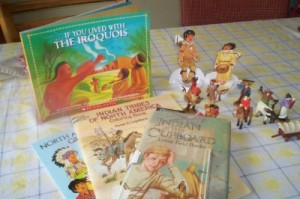 And then, on a random trip to the bookstore, we had to look and see if there were any books about Indians, and completely scored on If You Lived With The Iroquois.  This book gets quite detailed as far as the Iroquois Nations goes, but not so detailed as to be over the heads of the kids.  It's been a very interesting book to go through.
Each night we read, (which isn't every night, due to activities that keep us out late,) we gather on the big bed with our pile of Indian treasures, and the box of legos, and read together.  We laugh and talk about what's coming up next, and we just overall really enjoy our time reading together.   The book itself is just as wonderful as I remembered.  I have had to change a few words, because as it turns out, our Cowboy, Boone's, language needs a bit of cleaning up, but it's not horribly offensive.  Just a word here and there (h*ll) that I prefer to edit out as I read.  The story is enchanting though, the tale of a small plastic Indian toy, come to life in a magical cupboard is enough to get any child's imagination going.  Both my kids frequently talk about how wonderful it would be to have a cupboard like Omri's, and anytime we something with an Indian on it, they both get excited and point out how it goes with out book.
I think we'll be sad to see this book come to an end.  And while there are two sequels, I think we won't be reading them.  As I recall, neither of them had the charm of the first one, and I also would like to move on to something completely different.  We'll have to get used to reading a whole lot of different types of books, so I don't want to get into a rut right away.  I will, however, point out to Abigail that there are sequels, and if she would like to read them herself, she certainly may.
Our first foray into reading a chapter book together has been a rousing success.  While we've always done very well with picture books, it's something else completely to get a child to sit and pay attention to something without all the pictures.  So far, I'm impressed with both kids and their abilities to stay on task.  We're looking forward to the next one.