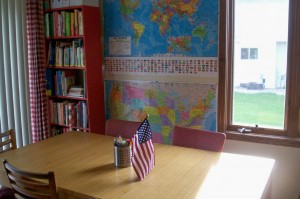 Here it is, about to be lunch time, and our first day of school is officially done. 

  It went very, very well.  Sonlight just makes it so easy!  We got up, the kids played a little, they had breakfast, and then we cracked open the big binder.  We went right down the schedule that was already made for us, adding in the math where we wanted it.  All the supplies were on hand, and the only hiccups we had were simply in getting familiar with everything.
The picture above is the schoolroom ready to go.  We really went back-and-forth between table and the living room.  We spent all of our reading time in the living room being comfortable.  Both kids really seemed to enjoy the day.  You could just tell that they were ready for school to start- they were eager little beavers this morning!  Abigail got sucked right in to all the books we read, and Zander tried his best to hang on for the ride.  He did an excellent job on his workbooks today- he worked on them quietly while Abigail and I did her math and dictation together.
Both kids really enjoy map work, so I'm already thinking about looking for some extra things that they can do with maps.  While we were doing our read-aloud this morning, UPS also dropped off some History Pockets that I'd ordered, so I'm excited to see how we can work those in to enhance our learning about the American Indians.
Anyway, the first day of school went so much smoother than I expected.  I hope I'll be singing the same tune by the end of our first week!  Here is a picture of the kids this morning, striking a pose as they danced along to a fun song to start out our school year.