One of the things that I am so glad that Sonlight is not is an artsy-crafty kind of curriculum.  Oh, I am sooooo glad it's not that.  I am not an artsy-crafty kind of person myself, and to have to assemble all these projects and activities- it makes me shudder just to think of it.   I wouldn't mind a little bit of craft stuff, but a whole bunch is not my cup of tea.  Nor is it my kids cup of tea.  They always seem excited to start a craft project, but then about 1/3 of the way in, they're tired of doing it.  I can't tell you how many craft projects we've never finished, or how many unopened packages of craft projects we have…
Anyway, one of the things that I found highly recommend by other Sonlighters was using History Pockets to go with our core.  When I looked up what these History Pockets were, and saw that they were some kind of craft book, I quickly discarded the idea, thinking it was simply crafts.  While I was at our favorite school supply store though, I found these History Pockets and gave them a flip through, and decided they might not be so bad after all.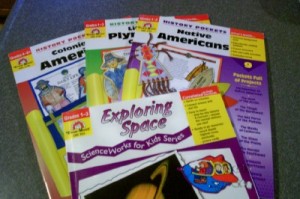 There are many themes of History Pockets- we have three, and our current one is on Native Americas.  How they work is this:  Basically, one book is used to make your own little book of pockets.  Each pocket is devoted to one particular subject, and then things pertaining to that subject are tucked in the pocket.  For example, our Native American History Pockets are just under way.  Our first main pocket holds our master map and our picture dictionaries for the rest of our book.  Our second pocket, which we're working on right now is for the Inuit of Alaska. This pocket holds a small booklet on the Inuit, a little fishing craft project, and a short story about Inuit -written on igloo-shaped paper.  Once we're finished with the whole book we will have a total of nine pockets- each one devoted to a different region and tribe of Native Americans.
The kids are really enjoying assembling their first book.  There is a little more coloring than Zander would like, but he seems to be managing okay so far.  The History Pockets come in age ranges, and the Native American one is a grade 1-3 age range- so it's a little beyond Zander, and a little below Abigail.  Still, they both seem to be enjoying working on it, and I like how it's helping reinforce what we are learning about Native Americans.  I also have the Colonial American and Life in Plymouth Colony books to work through this year, and I'll be picking up the North American Explorers for Abigail to do on her own the second half of the school year.  The 4-6 grade books have much more detail to the work, and is definitely for the more patient- I think Abigail is going to love the ones I'll have her do.
As it turns out, there is more to Evan Moor than these History Pockets!  I also picked up a book called Exploring Space: Scienceworks for Kids Series which is for grades 1-3 and is tying in perfectly with our Astronomy.  The paper crafts in the Evan Moor books are lining up perfectly with our Astronomy study and are really reinforcing what we're learning.   This coming week we will be learning more about the sun, and what do you know? There are activities and a mini book about the sun in this book.
Looking on the Evan Moor website, there are dozens of their supplementals that I would love to give a whirl.  I am really happy with the quality that they have shown in the two types of products that I have- and would also love to see them expand further.
I should mention one thing about all of these products- a photocopier is an absolute necessity for using them.  In fact, everything needs to be photocopied in order to use it- there are pages that you need multiples of, so you couldn't simply purchase a book for each child and have them cut out of it.  If you don't have a copier, I would think twice about them, as purchasing copies could get pricey.  If you're interested in any of these things that I mentioned today- thus far, the best price I've found on them is with Amazon- and they're usually in stock.
Once we've finished a set of History Pockets, I'll be sure and have the kids model them for you so you can see how cool they are- but it may take a while, as we're not progressing on them very quickly.