Today we spontaneously decided to take a field trip.  It was beautiful and sunny out, and we need to take advantage of that before winter arrives for real.
Our destination today was the Wildlife Sanctuary in Green Bay.  It's just what it sounds like, it's a beautifully maintained preserve, and visitors are free to explore whatever they'd like.  The absolute best thing about today was that it was like we had our own private place.  There were so few people at the sanctuary today!  It was wonderful, the kids felt free to explore as they wanted- there was no rush, no pressure, and no agenda.
We spent a lot of time outside with the animals.  The ducks and geese were really fun today.  They were inquisitive, and would come really close, but not so close that you wondered if they were going to take a snap at you.  Here are a couple of pictures from our picnic lunch.  They were definitely curious about us, but would back away quickly whenever anyone got up from the table.  We all kind of took turns shooing them away during lunch, and of course, when the kids were finished with their sandwiches, they fed the remains to the geese.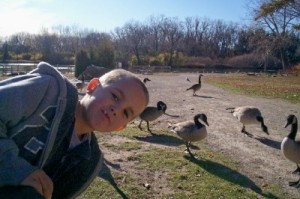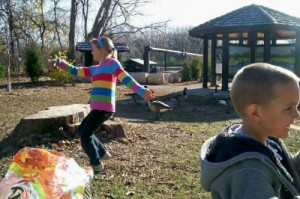 And here's a picture of the kids after lunch.  There were so many geese, and the kids just thought it was so awesome to be able to walk among them.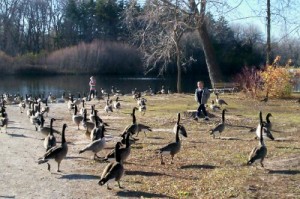 Here's a picture of a pair of ducks that swam close to us.  The sunshine was catching so beautifully on the mallards today!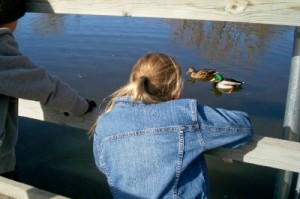 And back by the animals, we were so blessed to be able to see most of them.  We saw sea otters, a cougar, bobcats, ravens, crows, coyotes, wolves, herons, a red fox, and here's a couple of deer that Zander was very proud to spot.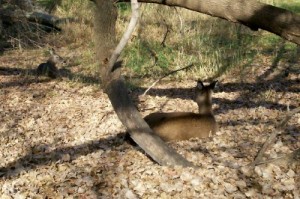 We didn't really have any purpose in taking this field trip today, other than spend time together enjoying the world that God created.   It was very nice to take a break and walk through the woods together.   We're definitely looking forward to doing it again very soon- and if the weather would stay nice for a while yet, me may just do that.