We really are still on a break.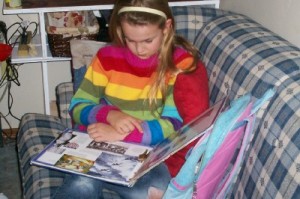 Reading for fun?  Who knew that could make it back into my children!?  One of the things that I was always upset with the school about was how they approached reading.  Abigail constantly had to be reading in order to reach a goal or obtain a prize.  There was never reading just for the sake of reading.  There was always some carrot out there for them to read.  When one goal had been met, another one quickly swept into place.  Reading time was rewarded with prizes, candy, books, tickets, etc.  Drove me bonkers!
Reading just for fun.  Ah, it's wonderful to see my kids choose to pick up a book when they are looking for something to do.  There's something really special about family reading time when we all have our nose in something.
Our lazy days are coming to an end though.  Next Monday, school starts back up again.  I'm ready to go, and we'll hit the ground running.  I'm hoping to add in a little art appreciation for a few weeks, and Abigail will get to start guitar lessons as well. She's pretty excited about that!
I've got my thinking cap as I'm trying to come up with something different to throw into our day as we dig deep into the Revolutionary War.   Not sure what that will be yet… but something I hope.