Since I talked about our language arts last week, I thought that this week I'd get my thoughts down about our current math going-ons.   Math was a challenging one for me to nail down before school started this year.  Math is one of the biggies- and of course, it's the first one that people grow concerned about when I talk about homeschooling.  Everyone wants to know how I'm going to teach the more advanced math to my kids- and what if I mess that up? Really?  This is the age of technology my friends, and whatever I come upon that I struggle with teaching can be done on the computer or via a DVD.  We can go all the way through advanced calculus if my kids are so inclined.  And actually, I suspect that Abigail is right on track to accomplish just  that if we do math every year of high school.
The number one thing I had to do with selecting math was wait until 3rd grade was done.  I needed to wait until all concepts had been gone over and reviewed.  Then, the next thing to do was to have Abigail take some tests.  Thankfully, most of the math programs out there have placement tests, so you can order the right one for your children's abilities.  I printed off a total of about six math tests and Abigail had to take them.  She was not happy with that process, by the way.
But when she was done with the tests, I had her rank them in order- because the tests reflected the curriculum, and if she had a hard time understanding something on a test- that meant something to me.  Some were also colorful, and some not- and that also played in.   She ended up choosing the Horizons test as her favorite, followed very closely by AOP's Lifepac curriculum.  After looking over both programs, I decided that Horizons was closest to how I wanted to teach.  I have not regretted it at all.  Abigail loves doing her math.  She loves the colorful notebook, and she loves the approach.  It's spiral math, which I actually wasn't sure about, but it's working very, very well.  When I say it's spiral, I mean that it revisits topics over and over.  Last week we introduced division of money.  Abigail did about 8 problems regarding that, and then moved on to do a few problems dealing with multiplication into the hundreds, then a few regular long division problems, then a story problem or two, and finished up with a puzzle which was a review of prime numbers.  So she's not doing dozens upon dozens of one problem- and we both love that.  She does enough so that I know she knows what she's doing, and then as we keep coming back to it, she gets more and more confident.  It's wonderful!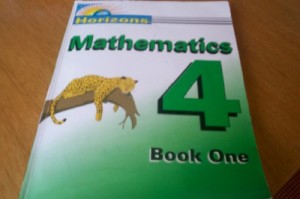 We are about one week away from finishing up her first book for the year.  This book has dealt with the big guys- major addition, subtraction, multiplication, division and money.  The next book we get into the more "fun" math- the geometry, the algebraic equations, time, decimals, fractions, ratios, graphing, things like that.  I think she'll have fun with it, actually.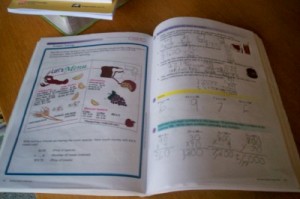 Which all leads me to next year, and thinking about next year's math.  I have an extra variable for next year- and that is little brother.  While they are doing different math this year (obviously) next year the bulk of their school days will be separate.  I fear it will take a while to totally wrap my mind around the idea of doing two separate cores, but in the meantime, my decisions for next year will involve as much independent work as I think I can ask for.  Math is one of those for Abigail.  While we're really enjoying the Horizons math, I think that this next year will be a good year to switch to Teaching Textbooks.  This program is done at the computer- where the program walks you through problems and helps you learn to complete your math.  Then mom comes in and checks the work- but the bulk of it is done by the student and the computer.  This will be something that I can have Abigail do while I work on something separate with Zander.  I think it will be a good choice- I just need to wait until this school year is done and have Abigail take a placement test to find out which version I should order for her.
Zander has been a completely different ball of wax.
When you look up the requirements of a kindergarten math program… well, lets just say that I could have skipped it altogether.  The basics of kindergarten math are counting to 20, identifying and writing numbers, identifying something like 10 basic shapes, and there's something else that is escaping me.   Knowing that, at the very beginning of the year I picked up an inexpensive math book, thinking we'd just go that route.  Except that Zander whizzed right through the book in a matter of a few weeks.  So I went back to the computer and did my research before deciding that if I wanted him to have math- I would need to go with a first grade program.
So I ordered the beginning books for Singapore Math.  The Singapore way of math is praised the whole world over- and Singapore students consistently rank at the top of any standings when it comes to math- so they must be doing something right.  Contrary to some beliefs, the US version of Singapore math does not have foreign currency or strange symbols in it- it's Americanized all the way, and has been a very interesting journey in teaching my son basic math skills.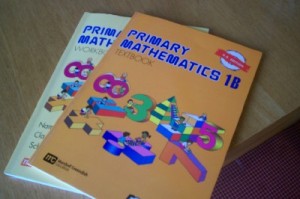 Honestly? This program is phenomenal.  It's so easy to understand, yet at the same time, it is totally teaching math skills- today I sat down with Zander to do flashcards and he whizzed right through them- telling me over and over again how easy they are.  The Singapore way of math has worked so well.  One of the things they encourage is the grouping of numbers to make it easier to add them together.  So when Zander sees 9+8, he automatically thinks to himself that 10+8 would be 18, so he needs to subtract one and get 17.   And he can do this well into the 20's and 30's now.  Just this morning he showed me that he can count by 1's to 1000 (I let him stop just past 100), 2's to 100, 5's to 100, 3's to 30, 10's to 100, and then he wanted to count by hundreds to 1000.  In the weeks to come, he's actually going to be starting multiplication already- in kindergarten.  He just gets it.
Where I'm hesitating is that while the Singapore has been good for him, I also really like the Horizons math.  So this is going to be weighed out very carefully for us in the coming months.   Ultimately, I think it will come down to his placement tests.  The number one thing when looking at any math program for me is those tests.  It's just so important to make sure that they are using a math program that fits them where they are at.  Honestly, I'm not even looking at grade numbers anymore when it comes to math.  We'll do the test and order the correct curriculum for where they are at.
And after all that, if the program shows up and after a few weeks we're just not jiving with it, we can always switch to something different.  And we will switch and switch until we find the program that fits best.  Individualized education- that's what we're all about here at The Sacred Sprouts Schoolhouse.