Look what showed up on my front stoop today!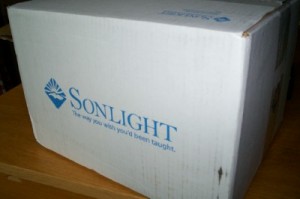 There's no turning back now!  It's the most important part of starting our new school year, our Instructor's Guides from Sonlight.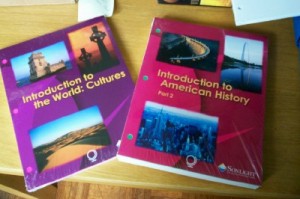 Abigail will continue ahead with the second half of US History while Zander gets a look at world cultures.  They're both going to love school this year.
I've decided that our first day of school will be August 30th.  Which means I have until then to assemble all the bits and pieces we need to get school rolling.  The binders are assembled and on the shelf, and now I need to acquire all the books and tools we'll need yet.  Zander is very excited to get his own Book of Time this year where he'll start his timeline.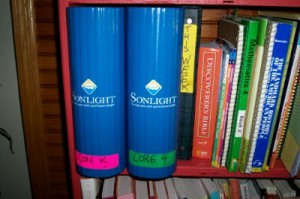 And of course, since I last posted, what, a few days ago, I've already changed my mind again about something.  Figures.  I really, really like the look of the science materials for Real Science 4 Kids.  And I really want to do them.  The thing is though, I will have to buy books and teachers guides for both kids, and THEN I will have to go hunt down all the individual components for doing the experiments and activities.  Just thinking about doing that every week makes me want to break out in hives!
So I've already changed my mind and decided that we will, after all, go with Sonlight for our science needs as well.  We get the best of both worlds then, because Sonlight does use some of the Real Science books in their program.  But even better? I won't have to run all around creation hunting and gathering what is needed for the experiments.  Sonlight does that for me!  When I order the complete Science programs, they come with all the tools and items needed for the experiments and activities.  I love that.   For certain I will be doing Science K with Zander, and I'm deciding between a few sciences for Abigail.
I wonder what else I'll change my mind on yet in the next four weeks… 😉