Our first two days of school have been wonderful.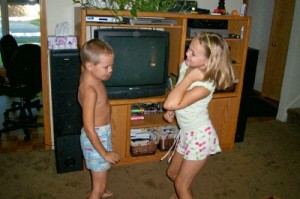 My plan to begin with Core K and then add Core 4 next week is going beautifully, because I can see exactly where to slide in the Core 4 components. All except the read-alouds. I am still putting some thought into those.
The Core 4 history will happen right after Zander's Core K history. I have the kids do math, and then when Zander is done with his math, we work on his history together. It's only after we're done with history that Abigail is done with her math, so right there is the perfect spot to add another layer of history.
But I haven't figured out the read-alouds yet. I would like to end our days with the Core 4 read-alouds. Right now we're ending with the Core K poetry and read-aloud. What I am keeping an eye out for is the perfect place to insert the Core K read-aloud and poetry so that the read-alouds are separate from each other. The K read-alouds are short and sweet. The 4 read-alouds are much longer. So maybe we'll do them after handwriting, but before math? Or after map skills and before they do their reading.
Hmm. Don't know yet, but I do know this. Our first two days have gone beautifully. We have flowed from subject to subject very smoothly, and the kids just seem eager- they are ready to learn after a long summer off.
And it just feels right.  As summer went on and on, I just was feeling like there was something missing from my day.  Not this week.  A return to schooling has added a wonderful layer of normalcy back into our days.  I am so glad to be back at it, and now that we are back in the saddle, I'm starting to wonder about summer vacation for next year.  I do think a nice long break is good for the kids, but I also am starting to think that maybe after a period of time- say six weeks- it wouldn't be worth it to do some half-days of school and get a jump on the school year.  It's something to think about, and a way to be able to go on some of the bunny trails that we'd like to hop on down.
It feels great to be back.