Can I just say that Teaching Textbooks is awesome!
Abigail LOVES doing her math- she's always liked math, but one week into it, she's really loving the Teaching Textbooks.  I love Teaching Textbooks, because she works one-on-one with the computer and then later on I can log on and see how she's done for the day.  I can see a report on every single problem she's done- how many tries it took her to get it correct, and if she asked for help from the program.  It's awesome!  It's so cool, that Zander has been spying on her during math and really is interested.  I promised him that if we can get all the way through his Singapore 2A and 2B this year, that he will be able to try the placement tests for Teaching Textbooks 3 for next year.
This mom highly recommends Teaching Textbooks at this point.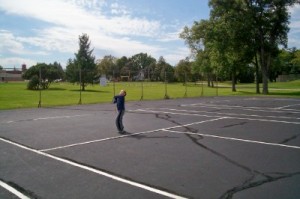 We've had beautiful weather as of late, and at least one day a week we seem to manage to find a day delightful enough to head to the tennis courts.  The kids have really taken to it.  It's getting to the point where Abigail and I can really get a good volley going back and forth.   Zander does pretty good too, but does get tired of chasing the ball when it doesn't go where he wanted it to.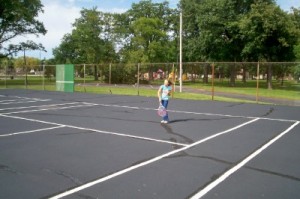 I've learned that our park & rec department offers tennis through the summers as well, and we may very well be looking into adding that in next summer along with another round of swimming lessons.   Especially for Abigail, as she really enjoys it.
The bonus part of our trips out for tennis is a lovely walk through the neighborhood, and the discovery of so much that nature has to offer this time of year.  We have massive nut trees in our park, and we've come home with handfuls of hickory nuts to crack, and acorns, which we've discovered are too much work to crack and boil and grind into meal.
Today during Zander's read aloud time he heard a loud noise outside one of our windows.  Upon investigating, he started grinning as he watched a woodpecker- literally just outside our window, exploring a tree.  We all paused what we were doing to watch him hop around.  It was a such a treat in the middle of our school day, and I loved that we were able to stop what we were doing for a few minutes with no concern about getting on with our day.
It's too bad I didn't have the camera nearby.  It was a pretty woodpecker.