I think.
I'm happy with it right now.  I have clean floors, all the books are on the shelves, and they've been sorted and gone through.    I threw out a huge stack of workbooks that were completely gone through, yet I was hanging onto for… hmm, don't know.  But they're gone now and in the recycling bin.
I managed to group like books together too!  So all the reference books are together, the science books, the history books, and my teacher manuals/answer guides.  It looks so much nicer!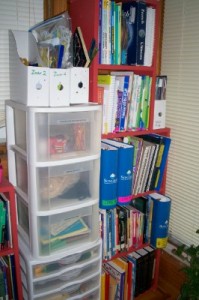 Then I also went through all the craft supplies, sorted, tossed a lot, and then managed to find a home for every single supply.  The drawers have been labeled even!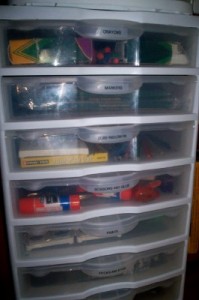 Those pretty wicker baskets full of garbage? Yup! I sorted through those and found maybe six pieces of paper worth keeping.  Then I slid them back on the shelf and what do you know! They're perfect for library books!  Next to Abigail's library basket I also put her American Girl and Sisters In Time books.  Zander's library basket is next to the poetry and history books.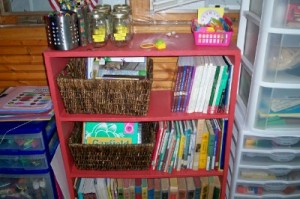 Overall, now all the books fit neatly on the shelves, and there is even some room to spare- which is great for adding more in the near future!   The only thing I didn't do, and should be an easy fix, is I'd like to get the magazine holders that hold the kids magazines down at their level.  That way they can go through them whenever they want- and not just when it's suggested to them.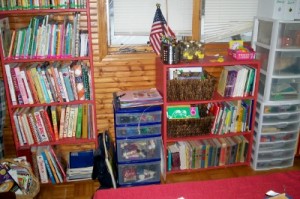 It's amazing how it really didn't take me that much time to get this done.  Three hours tops- and that is with sorting through scads of paperwork.  I'm glad I decided to do it this week, instead of next week when we're back to school!