I realize the ultimate in irony of the post I am about to do.  Just weeks after I was glowing about how our unschooling of Science was proving rewarding, I am about to share how we are moving in a new direction with our Science studies.
Enter NOEO Science.
Last year, about this time, I was sharing how I wanted to use Real Science 4 Kids as our Science curriculum for this year.  There were two problems with using that program for us.  One was cost, it's pricey, probably worth the price, but when we're stretching pennies here, that's not the best idea in the world.  The second problem I had with it is that it doesn't come with experiment materials- even chemicals for chemistry, you need to hunt them down and gather them yourselves.
And yet, a few weeks ago, when we found ourselves with the financial ability to consider buying a Science program, I went right to that webpage.  I loaded up my cart, and then I paused before I purchased.  A voice in my head told me to go check out NOEO Science,(a program which, btw, I've never, ever looked at) and I'm so glad I did!!!
NOEO presents Science with a Biblical view, but not an in-your-face view.  There aren't scriptures backing up the science at all, but there aren't those scientific contradictions you find in other programs (Is the earth billions of years old?  Really?).  The science is real science, so many times that Biblical view gets in the way of presenting real science.  Not here.  Not here at all.   And on top of how the science is presented, experiment materials are gathered for you and included in your package.  Everything except household supplies- and that is listed out for you as well.  Looking through that list, the only items we don't consistently have in our house is the 1 and 2 liter bottles.  Everything else is something we have on hand all the time.  And since I know when we'll need those bottles, we can plan ahead to have a little soda treat with a movie night sometime.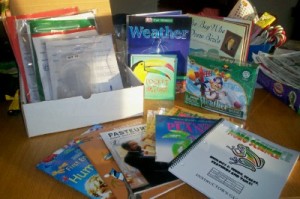 Our first box from NOEO came yesterday, and the second one will arrive today.  When I opened it up last night, I couldn't believe all the wonderful books, the science kits, and the instructor's guide.  Even Andy was impressed and when he asked me how much I spent, agreed that it was an excellent value.    Zander is beyond excited, because we're starting it up today.  When the second kit comes today, I will have Abigail look through them both and decide if she wants to work with Zander, or do her own.  I ordered Biology 1 and 2, and if she wants to do Biology 2 on her own, that will be just fine.  If not, we will save it for later on.
For now, the plan is this.  This is a 36 week course, and we have not that many weeks left of school.  So my plan is to try and get about half of the Biology 1 done this school year, and then we'll pick it back up in the fall.  Then, halfway through next year, we'll get the Chemistry set to break up the school year so we're not doing Biology all year long.  So far, it sounds like a do-able plan, and we're really excited to give this new Science program a try today.