Was that just last week that I was wondering how I was going to encourage Zander in his ability to read more difficult books?  Maybe it was a few weeks ago, but regardless, he's found it!
It all began Monday morning.  I had been very sick with the flu all weekend, and when I woke up Monday, still feeling like I'd been run over, I knew school was not going to go as planned.  So I assigned the three R's to the kids, and that was that.  Reading, Writing, and Arithmetic- all three that they could do on their own for the day.   When I handed Zander his book, he looked at me a little puzzled.  And then we had a chat.
He's been reading chapter books out loud to me during his reading time, and he dreads that, because it can really go on and on for a long time.  So that was his first thought, that reading a chapter book silently to himself was going to take forever.  But then I explained how when you read silently to yourself, you can read much faster than when you are speaking the words aloud.  That seemed to do the trick, because he headed off to a comfy bed to read.  And was back in about 2 minutes, because he'd already read his chapter.  So I sent him for a second chapter.  This one may have taken all of 3 minutes.  When I asked him what happened, he was able to tell me in great detail, so I knew that he had actually read it.
What a difference!  He's a different boy this week, as every day he is begging me to do his reading first.  He LOVES reading to himself instead of out loud to me, and really, I have no reason to have him  read out loud to me anymore.  He reads more proficiently than his older sister- he's just a natural reader.   He's been reading to himself every day for school, but then for fun he'll pick his book back up and read another chapter or two.  A whole new world has opened up for him, and he's asked me if we can always do reading like this now.
Of course, now that means I have to change my plans for reading for him for next year.  The reader package I was planning on going with is just going to be too easy, and yet, the package beyond that has a little more difficulty than I really want to go with.
So, for the third year in a row, I now get to assemble my own reading list for Zander.  Maybe after this year I'll be able to go with a package for him?  I've already started working on it, since I'm still feeling lousy, I have time to sit with book lists and catalogs, and I think I'll come up with a real exciting list for him.   I'm planning on using several books from this list,(using a combo of Elementary 4-6 and Primary 1-3 Advanced books) which I have cross-referenced with Sonlight materials, so we won't find ourselves duplicating in the next few years.  I'll add in some Judy Blume, Cynthia Rylant, and some great tales about Vikings and Greek Myths, and I think he'll have a wonderful year of reading.
So while I'm not thrilled to have been dealing with the flu, I am thankful that it helped my son get over his fear of failure.  Because what Mom wouldn't like to walk upstairs and discover this: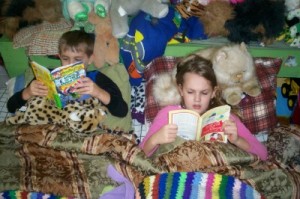 I owe that Geronimo Stilton an awful lot- he is responsible for getting both my kids to really sink their teeth into reading.