Do you hear that cartoon villain music in the background?  Yup, that's me, getting ready for a 13 day summer school session.
We've decided not to rush the coming school year and start early- instead, we're going to do a two-and-a-half week summer school session.  This will just give our brains a little exercise, and it will also give us the perfect time to do some bird observation.
There will be four areas of concentration for summer school.  One will be to resume our daily readings of the New Testament together.  Two will be to work on a bit of math- Abigail will be working fractions, Zander will wrap up a few more units from his Singapore that we never got to last year.  Three will be reading, and Four will be a Science study.  When I was going through their Biology materials, I was delighted to discover that both kids had a bird unit.  What better time to observe birds than right now when they are active and abundant?
These may look vaguely familiar: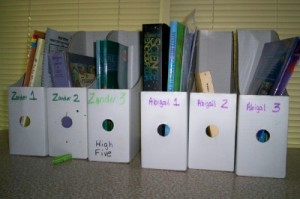 I dug out our workboxes from our very first summer school session, and am putting them back to use.  In addition to our school studies, we will continue with our swimming lessons and dance classes, so our days will be full and rich.
I haven't picked an official new back-to-school date yet.  It will be after I've assembled our materials, and I'm really not worried- we have plenty of time.