Here are our "official" First Day of School pictures.  Just before starting, we cued up a really fun dance song and had a dance party to welcome in the school year properly.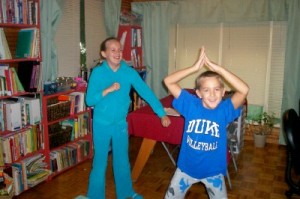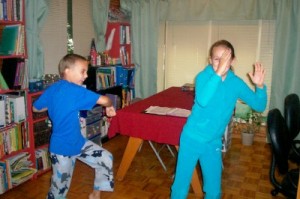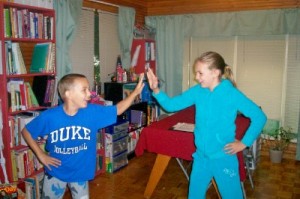 I tried to make a special breakfast by toasting up a cinnamon bagel and adding sprinkles to the smear, but Zander doesn't care for bagels, really, and the sprinkles on his peanut butter did not entice him.  Oh well, he ate the fresh fruit salad that went with it.
I was delighted yesterday to come home from our weekend away and find that my package of materials for Zander arrived while we were gone.  Thankfully our neighbors retrieved the package from the rain for me, so all was intact and in great condition.   I will still need to order a few missing books, but otherwise, we got to begin our school year as I desired- with Both Cores going at full blast.
And I'm tired.  Really tired.  Our school day went so much longer.  I know we have a few kinks to iron out, but I'm afraid that my Middle Schooler has extended our day by a lot.  In years past our Fridays were the light day of the week -I'm now eyeing it up as our most jam-packed day of the week.  That's just the way it's going to have to be in order to get everything in that I want to get in.
But it was still good.  I'm looking forward to getting used to this new normal. though I expect that will take several weeks, as there is a whole lot to get used to.