I know.  You thought that I had let another Pi Day go by without nary a mention here on the blog.  The fact was, I remembered it very well.  I remembered it so well, that I decided to try a new-to-me pie.  And then, not only was it a new-to-me pie, but I was also going to make one to share with new friends.  You would think I would end it there, but on top of making a brand new kind of pie and sharing it with friends untested, I was also going to work the recipe up in my own way so that it could go in the local paper this month.
Well, I don't mean to toot my own horn, but I got a gold star on all three accounts.
Back in November, for Thanksgiving, I decided to try my hand at a Coconut Cream Pie on behalf of my daughter who loves coconut.  I was so enamored with that pie, I made a second one the very next day, and both Andy and I were wondering aloud why I'd never made a cream pie before.  Why was I so afraid to attempt these pies from scratch.  I'll never understand, because in this case, when I asked my friends what their favorite kind of pie was, the reply was Chocolate Cream Pie.
I'd never made a chocolate cream pie.  But after the success of the coconut cream- I was certain a chocolate cream was not going to be much different.  I was completely correct.  I did begin with a pre-made shortbread pie crust from the store.  By all means, make your own, or make a graham cracker crust or an Oreo crust, but for ease of use, I went with the pre-made.  I just didn't want to take the time to make a homemade shortbread crust this go-around.  I hunted around and gathered a whole collection of recipes, and then set out to tweak and adjust and create my own version.
May I offer you a little slice of heaven?  Because this pie was so easy to put together and holy cow, was it delicious.  The chocolate cream set up just enough that the slices held their shape when cut with a sharp knife. The combination of Dark chocolate chips and unsweetened chocolate created the perfect rich chocolate flavor- it really was like eating a fudge pie.  So, so good.  It was so good that when we still had half a pie left, I had to share a serious chunk of it, or I was going to find myself in that pie plate yet again.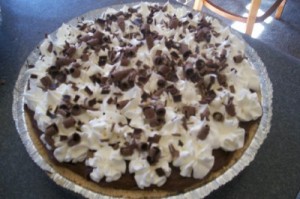 Chocolate Cream Pie
1                     shortbread pie crust — pre-made
2/3           cup  sugar
1/4           cup  cornstarch
1/2      teaspoon  salt
4                     egg yolks
2 1/2           cups  milk — not fat-free
1 1/2           cups  chocolate chips — melted (Hershey's Special Dark chips)
1              ounce  unsweetened chocolate — melted (1 square Baker's chocolate)
1 1/2    tablespoons  butter — softened
1           teaspoon  vanilla
1/2           cup  heavy cream
2        tablespoons  powdered sugar
1/4      teaspoon  vanilla
chocolate curls — for garnish
In a heavy saucepan over medium heat, whisk together sugar, cornstarch, salt and egg yolks.  Slowly add milk while whisking.
Bring to a boil, whisking constantly, then reduce heat and simmer for one minute, or until mixture is nice and thick.
Pour the mixture through a sieve into a mixing bowl, and then stir in the melted chocolates, butter and vanilla.  Press a piece of plastic wrap onto the surface of the pudding and refrigerate for at least 2 hours, and up to overnight.
Beat together the heavy cream, powdered sugar and vanilla until nice and thick and holds peaks.
Spoon the chocolate mixture into the pie shell.  Top with a layer of the whipped cream mixture.
Chill for an additional two hours.  Garnish with chocolate curls just before serving.
Pie can be made ahead up to one day as long as it is kept well-chilled