I know what you're thinking.  It's summer, and I'm baking bread.  This has actually been a very cool summer here in my neck of the woods.  It's been rather pleasant, though in my opinion, the coolness means it's not been hot enough for activities like swimming.  But it's cool enough that we don't need the air on at all.  Yesterday was one of the more cool days, so I planned to make a pot of Corn Chowder with fresh from the market ingredients.  Sweet corn, new potatoes, and freshly picked onions went into the soup pot.  Wow.  While we enjoy corn chowder any time of year, when the ingredients are fresh from the garden it's spectacular!
Of course, with a bowl of soup or chowder, bread is a must, and I decided to try a  new one from one of my Amish cookbooks.  I don't know how I've overlooked this recipe before, but it jumped out at me, and I am so glad I tried it.  It was really EASY to put together, and is a delicious loaf of bread.  One recipe makes two loaves, and I'm very glad for that, because it was delicious fresh yesterday, but even better today for sandwiches or toast with homemade jam.   There's only one thing I might consider changing with this recipe, and that is the sugar.  It calls for 1/2 cup of brown sugar or molasses.  I decided to use brown sugar- mostly because I think I'm out of molasses- but 1/2 cup is kind of a lot.  The bread is a touch on the sweet side.  Not so much that it's a sweet bread, but enough that I might consider reducing the sugar to 1/4 cup next time.  I'd also like to try it with the molasses sometime.
I'll definitely be making this one again!  There is a strange step to making this bread that involves putting some of the ingredients in the bowl and then pouring boiling water over the top.  My only caution here would be to make sure the mixture is nicely cooled before adding the yeast.  If the mixture is still too hot, it will kill the yeast and you'll have flatbread, instead of these beautifully risen loaves.   I really liked how quickly this came together.  My favorite bread recipe is an all day commitment, as I let the dough rise twice in the bowl- each time for 90 minutes, plus a third rise in the pan, followed by baking.  It takes me 5 hours to make two loaves of bread.  This Oatmeal Bread was completely done in about 2 1/2 hours.  Quick and easy, AND delicious.  I love that.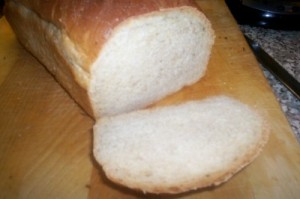 Oatmeal Bread
1 package dry yeast (2 1/4 teaspoons) 1/2 cup warm water 1 cup quick oats 1/2 cup whole wheat flour 1/2 cup brown sugar or molasses 1 Tablespoon salt 2 Tablespoons margarine (I used butter) 2 cups boiling water 5-6 cups flour (I used bread flour)
Directions:
Dissolve yeast in warm water.
In a large bowl, combine the oats, whole wheat flour, brown sugar or molasses, salt and margarine.  Pour the boiling water over all and mix well.  When mixture is cooled to lukewarm stir in yeast.
Stir in approximately half of the flour. Turn onto a floured surface and knead in the rest. (I ended up using the full 6 cups of flour.)
Place in greased bowl.  Cover and let rise until double (about 1 hour).  Punch down, shape into two loaves and place in greased bread pans.  Let rise again (about 1 hour).  Bake at 350ºF for 30-40 minutes.   Cool on a rack, brushing loaves with margarine for a soft crust.  (I did not brush the loaves with anything, and if I did I would use butter.)