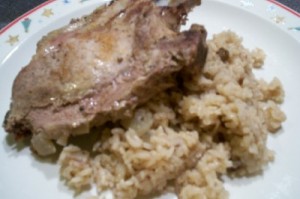 2 teaspoons olive oil
1 cup chopped onion, about 1/2 a medium onion 1 cup chopped mushrooms, about six mushrooms 1 clove garlic, minced freshly ground black pepper to taste 3 cups beef broth or stock 2 Tablespoons sour cream 1 1/2 cups white rice 4 bone-in pork chops Seasoned salt and black pepper
Directions:
In a non-stick saucepan, heat the olive oil over medium heat, and add the onions.  Cook for about three minutes, or until they start to get tender.  Add the mushrooms.  Cook for another five minutes.  Add the minced garlic, and cook for just one minute, turning down the heat if necessary to keep the garlic from browning.  Season with black pepper, and add the beef broth.  Check for seasoning, adding more pepper if necessary, and a pinch of salt if your beef broth is unsalted.  Turn off the heat, and whisk in the two tablespoons of sour cream.
Meanwhile, preheat the oven to 350ºF and spray a 9 x 13 pan with cooking spray.  Pour 1 1/2 cups of white rice in the pan, spreading it out evenly.  Gently, pour the beef broth mixture over the rice.  There is no need to stir it together.
Season the pork chops with the seasoned salt and pepper.  Lay the chops onto the top of the rice mixture. They will sink into the broth a bit, that's okay.  Cover the pan with foil, pop in the oven, and bake for 35 minutes.  Remove the foil and bake for an additional 10 minutes uncovered.
Serves 4.