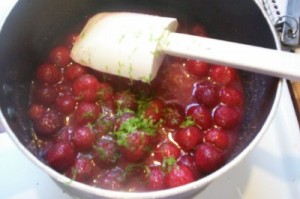 5 cups pie cherries- fresh or frozen.  If frozen, do not thaw (pitted)
3/4 cup sugar 2 tablespoons water 3 tablespoons cornstarch 3 tablespoons lime juice (from 2 small limes)
zest of one lime (Optional) 1/2 teaspoon ground cinnamon 1/4 teaspoon ground ginger
pinch of salt 2 tablespoons butter
Combine 2 cups of the cherries in a saucepan with the sugar and 2 tablespoons of water.  Cook and stir occasionally over medium high heat until the sugar melts and the blueberries are soft and mushy- about 5-7 minutes.
In a small bowl or measuring cup, combine the 3 tablespoons cornstarch with the 3 tablespoons lime juice.  Mix well until fully combined, and then add to your saucepot.  Cook and stir constantly until thickened.  It will become very thick.
Add the remaining cherries, zest if using, cinnamon, ginger, salt and butter.  Stir until well combined and the butter is melted- this mixture will be thick.
Scoop the mixture into your prepared pie crust, add the top crust and cut three vents into the crust.  Brush the top with milk and sprinkle with cinnamon sugar.
Bake in a 375ºF oven for 30 minutes.  Reduce the heat to 350ºF and bake for an additional 30 minutes, or until the filling is bubbling up through the vents and the crust is a beautiful golden brown.  Allow to cool completely before slicing into it- it slices more cleanly if you can wait a whole day.