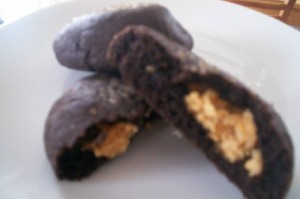 1 1/2 cups all-purpose flour 1/2 cup unsweetened cocoa powder 1/2 teaspoon baking soda 1/2 cup butter, softened 1/2 cup granulated sugar 1/2 cup packed brown sugar 1/4 cup peanut butter 1 egg 1 tablespoon milk 1 teaspoon vanilla Filling: 3/4 cup powdered sugar 1/2 cup peanut butter 2 tablespoons granulated sugar
Directions:
Preheat oven to 350ºF.
In a medium bowl, sift together the flour, cocoa and baking soda.  Set aside.
In a large bowl, beat the butter, 1/2 cup sugar, brown sugar, and 1/4 cup peanut butter together.  Add the egg, milk and vanilla and beat well.  Add the flour mixture and mix it in with a wooden spoon until well blended.  Form the chocolate dough into 32 1 1/4-inch balls and set aside.
For the filling, combine the powdered sugar and 1/2 cup peanut butter until smooth.  Shape this mixture into 32 balls.
On a work surface, slightly flatten each chocolate ball.  Top with a peanut butter ball and then shape the chocolate dough around the peanut butter ball.  Make sure the filling is completely covered.  Roll into a ball.
Place 2 inches apart on an ungreased cookie sheet.  Lightly flatten with the bottom of a glass that has been dipped in granulated sugar.
Bake cookies for 8-10 minutes, or just until set and surface slightly cracks.  Let stand on the baking sheet for 1 minute before moving to a wire rack.  Cool completely.  Makes 32 cookies.